We have been invited to signup for a car show raising money for autism and will air on the Velocity channel.  The following is what I received on the event:
I am contacting you from the office of Ray Evernham. Ray is putting on a car show in conjunction with his upcoming television series AmeriCarna set to air on the Velocity Channel in the coming months. The car show is called AmeriCarna LIVE and is going to benefit the IGNITE community center in Davidson for young adults with high functioning autism or Asperger's Syndrome. This charity is very close to Ray's heart because his son, Ray J, has Asperger's Syndrome.
We are trying to reach out to car clubs around the area to take part in the event. The car show will include cars from many of NASCAR's top stars along with select cars from Ray and Rick Hendrick's collections. The event will include live music from local talent, a kid's entertainment area, and Q & A sessions with Ray and other celebrities. It will be hosted at Ingersoll Rand in Davidson, NC on November 30th.
What I am asking of you is to introduce this opportunity to the members of your car club and see what the interest level is of being involved. I would be more than happy to come visit one of your meetings to talk a little bit more about the show. Feel free to call me anytime or shoot me an email for any more information. I am attaching a copy of the car show flyer and for more information you can visit the website for the event at
www.americarnatv.com/live.
Our goal is to get close to 300 cars to enter the show at $25 per car. This will help us raise close to $50,000 for IGNITE and will greatly affect the lives of many kids affected by Autism in the Davidson area.
The website to register for the show is
http://www.americarnatv.com/live
_________________
-Gipson Rumple-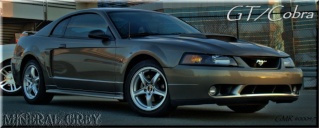 -2001 Mineral Grey GT -
376
-RWHP
389
-RWTQ